April 9th Bloomfield Township E-Newsletter
Posted on:

29 April 2015

By:

Brainwrap
In the mood for some cleaning?
It's time to clean up and take out the trash.
The spring cleaning season has arrived.
The Township has scheduled a series of events to help you clean up your home  - and the Township.
Clean Sweep is set for April 18 and 19. Residents are being asked to help clean up safety paths and entrances to subdivisions. The Township will provide trash bags and compost bags along with water bottles and tote bags. You can sign up at the Department of Public Works. Call (248) 594-2800.
The Electronics Recycling, Bulk Paper Shredding and Medication Disposal event will be held 9 a.m. to 2 p.m. April 18 at the DPW building by Town  Hall. Bring your old computer, laptop, printer, fax machine or other electronic device. It's for Township residents only and you must bring ID.
Also coming up is the Household Hazardous Waste Drop -Off day, 9 a.m. to 2 p.m. May 2 also at the DPW lot.
You can bring a host of items to be disposed of including paint, toilet bowl cleaner, brake fluid, furniture polish and more.
For more information on all these events, including a full list of items to bring in for disposal, visit the Township webpage, www.bloomfieldtwp.org. Look for the event listings on the home page under Township News. Or click here.
---
Police calls:  Caught on camera
Police are seeking this man.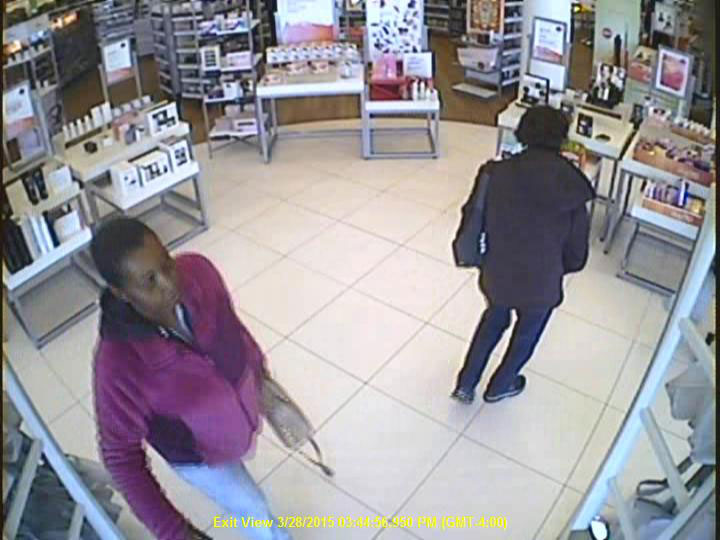 ---
Retail fraud: On March 28, police were called to Ulta on Telegraph regarding a retail fraud that had just occurred. The man at left in the surveillance video was seen concealing more than $175 worth of merchandise, then leaving the scene without paying in a white Chevy Malibu. Anyone with information is asked to contact the police at (248) 433-7755.
In another instance, on March 28, two women were seen concealing alcohol and leaving the CVS store on Telegraph. The value of the stolen alcohol was about $500. The women were seen getting into a dark colored Monte Carlo. One of the suspects was using a walker.
---
Counterfeit credit card. This woman is being sought by police regarding the fraudulent use of a credit card.
On March 16, police were dispatched to the 1200 block of Watercliff Drive on a report of an ID theft.
The resident was still in possession of a credit card but there were approximately $400 in unauthorized charges from a local business on the card.
Anyone with information is asked to call the police at (248) 433-7755.
---
Hit and run: At about 2:25 p.m. on March 26, police responded to the area of Maple and Franklin on a report of an injury crash. Before officers arrived, the responsible vehicle left the area. The heavily damaged vehicle was driven a short distance then abandoned on a nearby street. The area was searched. Four hours later the owner was located and issued citations for failing to stop within assured clear distance, failing to stop at the scene of an accident and failing to report an accident.  
---
Telegraph under repair
The orange barrels were out this week on Telegraph at Square Lake as construction was set to begin.
Reconstruction of portions of Telegraph Road is set to begin next week, after being postponed because of bad weather this week.
The road is being replaced in sections from Long Lake northbound to Square Lake and from Orchard Lake southbound to Long Lake. The intersection at Maple also is being repaired.
Construction is expected to continue through September. In the meantime, pothole patching on Telegraph continues.
Beginning April 15 Telegraph will be reduced to one lane from 9 p.m. to 5 a.m. weeknights and frm 9 p.m. Friday to 5 a.m. Monday nightly depending on the construction site.
The work is part of a $1.6 million project by the Michigan Department of Transportation.
Access to businesses and side streets along the construction route are not expected to be affected.